WebHostingBuzz Review and Test Results
Summary

Ranking:
Cheapest Hosting Plan: (1-year term renewal)*
$5.95 per month
Current Coupon Code (50% Discount):
PRESENTS
Company Founded:
2002
Domains Hosted:
250,000+
24×7 Phone Support:
Yes
Money-Back Guarantee:
45 days
BBB Rating:
No Rating
Website:
https://www.webhostingbuzz.com/

*Price above based on 1-year term before application of coupon code/introductory discount. While you may pay less for the first year of hosting, unless otherwise indicated, the pricing displayed on this page is the 1-year term renewal rate. Star ratings based on a 0.5 minimum to 5 star maximum scale. Why you can trust this WebHostingBuzz review. >
The Bottom Line
RECOMMENDED
A model of consumer-friendly best practices for web hosting, WebHostingBuzz shared plans are easy to buy, easy to set up, and easy to maintain.
In addition to best-practices standards like cPanel and the Softaculous applications installer, their shared plans include a 2Checkout Merchant Account. A valuable ecommerce feature, WebHostingBuzz is the only company we've reviewed that includes it with their cheapest hosting plan.
On the downside — while they did score a 100% reliability rating, server speeds were only average.
WebHostingBuzz has earned 4.5 stars and the NCM Online designation of RECOMMENDED.
Rating

Price:
Ease-of-Use:
Disk Space:
Bandwidth:
Speed:
Uptime:
Support:
BBB Rating:
Guarantee:
Satisfaction:
TOTAL:
Review
A consumer-friendly hosting company with a growing worldwide reach, WebHostingBuzz is headquartered in Auburn, Massachusetts and Lincoln, UK. Dedicated to green hosting, the company offsets its carbon output with tree planting through contributions to the Woodland Trust.
HOSTING PLANS
WebHostingBuzz offers three easy-to-use shared hosting plans that range in price from $5.95 per month to $10.95 per month for a 1-year term renewal.
The cheapest plan, Buzz Light, is designed for smaller sites and the first-time webmaster. Highlights of the plan include 400GB of disk space, unlimited bandwidth, unlimited e-mail accounts, unlimited subdomains, unlimited MySQL databases, unlimited FTP accounts, the industry-standard cPanel control panel, the Softaculous apps installer with 300+ ready-to-install applications, a 2Checkout Merchant Account, and the ability to host two websites. Optional, added-cost features include a dedicated IP address for $30.00 per year, and a Comodo Positive SSL Certificate for $12.95 per year.
Buzz Light pricing options include $4.95 per month for a two-year term, or $5.95 per month for a one-year term.
The next-cheapest plan, Buzz Power, is designed price-conscious webmasters who require shared web hosting for a number of websites. It includes all of the Buzz Light features and options while adding unlimited disk space, as well as the ability to host an unlimited number of websites on a single account.
Buzz Power pricing options include $6.95 per month for a two-year term, or $7.95 per month for a one-year term.
The most advanced and highest-priced shared plan Buzz Premier, is designed for developers and small businesses. It includes all of the Buzz Power features and options while adding a dedicated IP address; a Comodo Positive SSL Certificate; NGINX frontend, optimized for mainstream scripts (WordPress, Joomla, Drupal, vBulletin, SMF); Ruby on Rails support; CVS, SVN, git and mercurial clients pre-installed; selectable legacy PHP (5.2) and latest PHP (5.3) support; and security tweaks for mainstream scripts (.htaccess and PHP settings).
Buzz Premier pricing options include $9.95 per month for a two-year term, $10.95 per month for a one-year term, and $12.95 per month for a single-month term.
All WebHostingBuzz shared plans are backed by 24×7 technical support (phone, chat, e-mail/ticket) and a 45-day, money-back guarantee.
PURCHASE PROCESS
WebHostingBuzz utilizes a consumer-friendly, one-page ordering process (screenshot above right) that is a model of simplicity other web hosting companies would do well to adopt. There are no pricing asterisks. The payment amount due today and the renewal rate for the plan selected are both clearly displayed within the order summary. There are no unwanted added-cost options automatically added to the shopping cart. Simply enter the domain name to be associated with the account, select a billing term, enter contact information, choose a password, and select a payment method. Payment options include VISA, MasterCard, Maestro, American Express, Diners Club, PayPal, WebMoney, and Dwolla.
SETUP
As is our practice, we selected the lowest-cost shared hosting plan — Buzz Light — for review and testing purposes. We completed our purchase using the PayPal payment option. Within seconds of clicking the "Complete Order" button, the "Welcome" e-mail arrived in our inbox. While it did not include all of the information required to set up our test site, it did include the Client Area login information. From the Client Area we were able to navigate to the cPanel by using the "Services > My Services" link, clicking on the "View Details" button, and then the "Login to cPanel" button.
One minute after the arrival of the "Welcome" e-mail, the "Account Details" e-mail arrived in our in box. Unfortunately the e-mail message was empty. At that point we called support. They informed us that the message would be resent immediately. They did, but it too was empty. However, 4 minutes later (32 minutes after receiving the "Welcome" e-mail) we received an e-mail with subject line, "product welcome email". It contained all of the information required to set up our test site, including the WebHostingBuzz nameservers, FTP login, and e-mail settings.
Using FTP, we proceeded to upload our NCM test site. We then set up the Dotcom Monitor page-load speed and uptime testing, and waited for the test results to accumulate.
TESTING
All web hosting services reviewed by NCM Online are purchased and subjected to our 10-day test for speed and reliability. WebHostingBuzz testing began on 11/27/14 and concluded on 12/06/14. Our test site was checked for page load speed and uptime every 15 minutes from 13 worldwide locations. In all, testing consisted of nearly 2000 individual server checks. We are pleased to report that Dotcom Monitor testing resulted in a perfect 100% reliability score. See uptime test results chart below right.
Although reliable, our Buzz Light shared plan did not rank amongst the fastest services reviewed to date. WebHostingBuzz scored a mediocre 10-day average speed of 1.6754 seconds to load our simple, one-page test site from 13 locations worldwide, and 1.2064 seconds from 7 U.S. locations. See screenshot below right for test locations and results chart.
Pros
cPanel control panel
Softaculous applications installer
Included 2Checkout Merchant Account
24/7 phone/chat/email support
400GB disk space
Unlimited bandwidth
Unlimited e-mail accounts
Unlimited MySQL databases
Unlimited subdomains
Unlimited FTP accounts
PayPal payment option
45-day money-back guarantee
100% uptime test result
A green web hosting company
WebHostingBuzz is committed to consumer-friendly best practices for web hosting
Cons
Only average server speeds
Not currently rated by the Better Bushiness Bureau
Conclusion
Scoring high marks for reliability and support WebHostingBuzz is committed to providing green hosting and consumer-friendly industry best practices They are a low-cost host worthy of your consideration. If not for the only-average server speeds, the company would have earned our "highly recommended" endorsement.
WebHostingBuzz has earned 4.5 stars and is recommended by NCM Online.
Pricing and Features
Cheap website hosting company price comparisons based on 1-year term list price before coupon/promo codes or limited time/introductory offer discounts. These are the renewal rates for the second year of hosting. To ensure that you receive the most affordable WebHostingBuzz pricing possible, please see Summary above for coupon code and/or current discounts before making any purchases.
Plan
Buzz Light
Buzz Power
Buzz Premier
Disk Space
400GB
Unlimited
Unlimited
Bandwidth
Unlimited
Unlimited
Unlimited
Websites
2
Unlimited
Unlimited
Free Domain Name
Free Account Transfer
$10 Pond5.com Voucher
Dedicated IP Address
$30/year (optional)
$30/year (optional)
Free
2Checkout Merchant Account
Comodo Positive SSL Certificate
$12.95/year
$12.95/year
1st Year FREE
Multiple Website Hosting
Addon domains
1
Unlimited
Unlimited
Subdomains
Unlimited
Unlimited
Unlimited
Domain Parking
Unlimited
Unlimited
Unlimited
Website Management
Control Panel
Multi Language cPanel
Shell Access (SSH)
FTP Accounts
Unlimited
Unlimited
Unlimited
URL Redirect/Forwarding
Awstats
Raw Access Logs
Dreamweaver Access
File Manager
Index Manager
IP Deny Manager
DNS Zone Management
Password Protect Directories
Cron Jobs
Mime Types
Apache Handlers
Manage Open PGP Keys
Hotlink Protection
View Server Status
Custom Error Pages
Regular Backups yes
SpamAssassin AntiSpam Technology
Server Specification
Dual Intel Xeon
Dual Intel Xeon
Dual Intel Xeon
Operating System
CentOS Linux
CentOS Linux
CentOS Linux
Free Scripts
One-click Software Installer
CGI Center
E-Commerce
CubeCart
OS Commerce
Zen Cart
Agora Shopping Cart
Email Features
Email Accounts
Unlimited
Unlimited
Unlimited
Mailing Lists
Unlimited
Unlimited
Unlimited
Auto responders
Unlimited
Unlimited
Unlimited
Email Forwarders
Unlimited
Unlimited
Unlimited
Email Aliases
Unlimited
Unlimited
Unlimited
SMTP, POP3 and IMAP
MX Record Modification
Spam Free Email
Personal Mail Servers
Webmail
Catch-all Facility
Database Support
MySQL 5+
MySQL Databases
Unlimited
Unlimited
Unlimited
PHPMyAdmin
Server Side Scripts
PHP 5+
Personal CGI-Bin
Perl 5+
Zend Optimizer
Image Magick, GD, cURL
Secure Socket Layer (SSL)
TCL and Python
Server Side Includes (SSI)
Multimedia Support
Flash Compatible
Shockwave Compatible
Security Features
Virus Scan Feature
Hardened Web Servers
Secure Data Center Environment
Technical Support
24×7 Ticketing Support
24×7 Live Support
Online Manuals
Phone support
Billing Management
Billing Management Area
Online Invoice Statements
Guarantees
99.9% Uptime or higher
45 Day Money Back Guarantee
Price Freeze
Same-day Setup
Price per Month*

$5.95

$7.95

$10.95
Company Information
Founded in 2002, WebHostingBuzz introduced a novel idea into the then very different hosting market. Back then, the market was overrun with larger webhosting companies who got away with low performance at a high price due to a lack of competition. WebHostingBuzz slowly started to develop a good reputation for offering affordable quality. Starting off as a basic reseller hosting account, they grew to run three dedicated servers with just under 1000 customers in a year's time.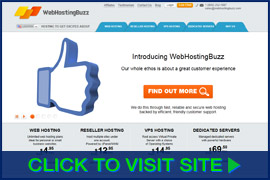 Today, the firm has three data centers with greater than 250 servers hosting more than 250,000 websites on their network. This ever growing firm has gone from two employees to more than forty-five.
Their servers can service websites worldwide with a reliable, fast base due to many data centers in America, the UK, and Europe. The Uptime Institute has considered every data center Tier3+. They all provide fully redundant network, climate control, security, and power.
The firm operates in four carrier-grade datacenters in North America. They usually have private collocation suites/spaces/cases in carrier hotels running their own infrastructure. All the datacenters have been chosen in areas that are not prone to natural disasters. They run private and public networks between all facilities. Full disaster recovery and global load balancing is offered between two or more facilities.
The two primary POPs in North America are the datacenters in Atlanta and Dallas. WebHostingBuzz hosts reseller servers, private and public clouds, dedicated servers, and shared servers from these. A secondary POP is maintained just outside of New York City in Clifton, NJ. The company operates dedicated and shard servers here providing millisecond connectivity to the Big Apple. A secondary POP also operates dedicated servers in Phoenix, AZ to provide customers with connection to the West Coast while keeping out of the earthquake-prone LA.
Carbon neutral webhosting was invented by WebHostingBuzz in 2006 as they were determined to become a greener, more environmentally friendly company. They realized that as a business so dependent on using vast amounts of energy, they needed to calculate their environmental impact and determine how to reduce this. It was not until 2007 that all their competition started to consider their impact as well. Their green credentials are open to the public to read as WebHostingBuzz continues to insist that they are far more dedicated to their environmental responsibilities than their competitors.
Additionally, the company sponsors the ITF (International Tree Foundation) which is a charity that is dedicated to planting trees around the developing world to reduce carbon levels. In addition to making a great contribution to the charity every year, WebHostingBuzz plants at minimum twice the trees necessary to counter the carbon produced by their business.
WebHostingBuzz USA LLC 850 Southbridge St Auburn, MA 01501 800-252-1887 Fax: 508-597-8354
Host Lincoln Ltd t/a WebHostingBuzz.co.uk 1 Riseholme Road, Lincoln Lincolnshire LN1 3SN UK 44-844-8237862 WebHostingBuzz Website WebHostingBuzz on Twitter WebHostingBuzz on Facebook WebHostingBuzz on Google+ WebHostingBuzz on LinkedIn
Read more WebHostingBuzz Reviews >
Return to Website Hosting Reviews >
Why You Can Trust Our Web Hosting Reviews >
PLEASE NOTE: While we attempt to provide timely and accurate information, any and all pricing, features, discounts, coupon codes, promo codes, etc. included on this page are beyond the control of ncmonline.com and are subject to change without prior notice.
---