NetHosting Review and Test Results
Summary

Ranking:
Cheapest Hosting Plan: (1-year term renewal)*
$5.95 per month
Available Discounts:
$3.95 per month for 3-year plans
Company Founded:
1994
Domains Hosted:
Unpublished
24×7 Phone Support:
Yes
Money-Back Guarantee:
30 days
BBB Rating:
A+
Website:
http://www.nethosting.com/

*Price above based on 1-year term before application of coupon code/introductory discount. While you may pay less for the first year of hosting, unless otherwise indicated, the pricing displayed on this page is the 1-year term renewal rate. Star ratings based on a 0.5 minimum to 5 star maximum scale. Why you can trust this NetHosting review. >
The Bottom Line
RECOMMENDED WITH RESERVATIONS
It's not often we take issue with the usability of a host's website, but in NetHosting's case we feel compelled to make an exception.
The site has Security Certificate problems, resulting in insecure warnings from Firefox and Chrome. If a host cannot properly configure SSL for their own site, what hope do we have that they can properly configure it for our site?
But all is not negative with NetHosting. Their Cloud Virtual Hosting plan includes numerous first-rate features. Further, testing demonstrated better-than-average page-load speeds, and a 100% reliability rating.
On balance, NetHosting has earned the NCM Online designation of RECOMMENDED WITH RESERVATIONS.
Ranking

Price:
Ease-of-Use:
Disk Space:
Bandwidth:
Speed:
Uptime:
Support:
BBB Rating:
Guarantee:
Satisfaction:
TOTAL:
Review
HOSTING PLANS
NetHosting proved to be a difficult host to review. Judged on certain aspects, one would determine that they are an excellent shared host. However, other aspects of their hosting services left us wondering how they could get it so wrong.
NetHosting offers three low-to-moderately-priced shared hosting plans. The cheapest plan, Cloud Virtual Hosting, utilizes a Linux operating system, while the Windows Core and Windows Standard plans run on the Windows Server 2012 operating system.
NetHosting shared plans are backed by a 100% uptime guarantee; a 100% satisfaction guarantee; 24/7 phone, chat, and e-mail support; and a 30-day money-back guarantee.
CLOUD VIRTUAL HOSTING
The cheapest shared plan, Cloud Virtual Hosting, provides a generous number of unlimited features including: disk space, transfer (bandwidth), domains hosted, subdomains, domain pointers, FTP accounts, e-mail accounts, e-mail autoresponders, and e-mail forwarding.
Cloud Virtual also provides the industry-best-practices cPanel control panel (screenshot right), as well as the easy-to-use Installatron applications installer (screenshot below right). NetHosting's Installatron comes equipped with more than 125 popular hosting apps.
Content management systems include: WordPress, Drupal, Joomla, b2evolution, concrete5, Dotclear, Geeklog, LifeType, PivotX, Serendipity, and 30 others.
E-commerce and business applications include: Magento, PrestaShop, ZenCart, CubeCart, AbanteCart, Open Classifieds, SugarCRM, SuiteCRM, OrangeHRM, Group Office, BoxBilling, WHMCS, Mantis, PHProjekt, Hesk, osTicket, WeBid, and 20 others.
Community building applications include: phpBB, MyBB, SMF, Pligg, Lazarus Guestbook, PmWiki, WikkaWiki, MediaWiki, Booked, ExtCalendar, Web Calendar, phpFreeChat, phpMyChat, and 10 others.
Photo and file applications include: ownCloud, Gallery, Codiad, GateQuest, OpenDocMan, Power File Manager, ProjectSend, Coppermine, Piwigo, TinyWebGallery, and Zenphoto.
Survey and statistic applications include: LimeSurvey, Aardvark Topsites, Advanced Poll, phpESP, Simple Poll, phpMyCounter, Piwik, and Seo Panel.
Miscellaneous applications include: PHPLinks, SiteBar, YOURLS, iTron Clock, WebCards, Contact Form, Form Tools, phpFormGenerator, webtrees, Feed on Feeds, selfoss, Tiny Tiny RSS, and Search Engine Project.
The Cloud Virtual Hosting plan also includes: up to 10 MySQL databases, backup management, custom Cron jobs, custom mime types, custom error pages, PHP 5 support, PERL 5 support, e-mail spam control, webmail interface, site statistics, a shared SSL certificate, and free website migration.
The Cloud Virtual Hosting plan lists for $3.95 per month for a 3-year term, $4.95 per month for a 2-year term, and $5.95 per month for a 1-year term. Unlike many hosts, NetHosting's renewal rates are identical to their introductory rates.
WINDOWS CORE
The next-cheapest shared plan, Windows Core, provides a number of unlimited features including: subdomains, domain pointers, FTP accounts, e-mail accounts, e-mail autoresponders, and e-mail forwarding. Windows Core provides a choice of the Plesk Parallels or the CentOS control panel. Supported languages include IIS 7.5, .NET 4.0, .NET 2.0/3.5, .ASP, and Silverlight.
The Windows Core plan is limited to 1 domain hosted, 5GB of disk space, 100GB/month of transfer (bandwidth), and up to 5 MS SQL databases. Additional features include: phpMyAdmin, custom mime types, custom error pages, PHP 5 support, e-mail spam control, webmail interface, site statistics, and a shared SSL certificate.
The Windows Core plan lists for $8.33 per month for a 1-year term renewal, and $9.95 for a monthly plan. Renewal rates are identical to the introductory rates.
WINDOWS STANDARD
The costliest of the three shared plans, Windows Standard, includes all Windows Core features while substituting 10GB of disk space and 200GB/month of transfer (bandwidth).
The Windows Core plan lists for $12.50 per month for a 1-year term renewal, and $14.95 for a monthly plan. Renewal rates are identical to the introductory rates.
OPTIONS
Additional-cost options common to all three plans include a dedicated IP address for only $1.00 per month, and a private SSL certificate for only $24.95 per year.
PURCHASE PROCESS
As is our practice, we selected the cheapest available shared plan — Cloud Virtual Hosting — for purposes of testing and review. NetHosting utilizes what should be a simple 2-step checkout process. Unfortunately, we found the process to be problematic.
We found that the Cloud Virtual Hosting plan pricing/term options provided varied depending on the link used to begin the checkout process. In an industry rife with questionable standards and policies, this particular bit of subterfuge was new to us (see homepage pricing illustration below right).
DECEPTIVE?
To be specific, there are four homepage links that provide a direct path to order Cloud Virtual Hosting. Two of the links result in three pricing options (1-year, 2-year, and 3-year plans), while the other two links provide only a single pricing option (3-year plan).
If you wish to see the difference in pricing options for yourself, please be certain to close your browser window and clean your cookies prior to the selection of a different link. Otherwise, you will receive the same pricing options that resulted from your first link selection — regardless of the link selected the second time.
We believe that pricing options for any particular hosting plan should remain consistent throughout the site. We find NetHosting's practice of limiting pricing options based on link selection to be less than consumer friendly and at least somewhat deceptive.
NCM Online has and will continue to point out any less-than-transparent business practices employed by the web hosting companies we review. Further, we have and will continue to deduct from the ease-of-use and satisfaction ratings of any host that utilizes such practices. NetHosting's ratings have been adjusted accordingly.
CHECKOUT
Step 1 of the checkout process provides the option to purchase a new domain name, or enter one you already own. We entered our domain name and clicked the continue button.
Step 2 provides a selection of three prepaid plans — 1-year, 2-year, and 3-year. We selected the "5.95/mo.|Prepaid 12 Months" pricing option.
We completed the "ACCOUNT INFORMATION" form fields, skipped over the "ADDONS" section, and selected the PayPal payment option. Additional billing options include Visa, MasterCard, American Express, and Discover. We then checked the Master Service Agreement/Terms and Conditions box, and clicked the "Process Payment" button.
NOTE: In the event you are not presented with the 1- and 2-year term options, you may scroll down to the "COUPON CODE" section; delete the "395hosting" coupon code; and click the adjacent "UPDATE TOTAL" button. The 1- and 2-year term options will appear in the "PRICING PLANS" section.
SETUP
Within seconds of placing our order, we received the PayPal e-mail receipt for $71.40 and an e-mail from NetHosting which included the following:
As part of our Customer Security process, we conduct a fraud review of all transactions to ensure the authenticity of every order. We are pleased to offer this service for your protection and will attempt to contact you at the phone number you have provided.

If we are unable to speak with you and confirm that your order was placed with your full knowledge and consent, the service will be inactivated as an added precaution until we receive the appropriate verification.

If you have not heard from us by the receipt of this notice, you are more than welcome to contact us at anytime to confirm the order and your identity."
With our hopes dashed for a quick setup of our test site, we moved onto other work. Thirty minutes later we called NetHosting to verify our account. We were informed that the person handling verifications was on the phone with a customer and would get back to us. We waited 20 more minutes and called again. This time we were able to verify the account.
Within seconds of hanging up, we received the NetHosting "welcome" e-mail. Attached was a PDF entitled, "NetHosting Cloud Virtual Hosting Welcome Letter." It provided all of the information required to set up our test site — including the admin and cPanel logins, FTP particulars, e-mail settings, as well as contact/support information.
We proceeded to upload our test site via FTP. Then we set up our Dotcom Monitor page-load speed and reliability testing. The next step was easy — wait 10 days for the test data to accumulate.
USABILITY
NetHosting provides the industry-leading cPanel control panel with shared hosting plans (screenshot above right). Designed to accommodate newbies as well as advanced webmasters, it provides easy access to hundreds of website functions.
NetHosting's cPanel includes the Installatron applications installer (screenshot above right). Equipped with more than 125 applications, it allows for quick and simple, 1-click app installations. A personal favorite, Installatron may be the best website applications installer on the market today.
While NetHosting's Cloud Virtual Hosting plan scored high marks for usability by virtue of its features and technical merits, the company website and its policies did not. Both Firefox and Chrome provided security warnings when accessing NetHosting.com. Further, the site did not render properly in Firefox and IE. If you plan to visit the site, we suggest you use Google Chrome.
Although NetHosting provides 24/7 phone chat and e-mail support, attempts to launch the chat function in Firefox or Chrome resulted in the following error message: "Chat key cookie does not match visitor chat key." However, the chat function did work perfectly in IE. Go figure.
Additionally, the Windows Core and Windows Standard plans presented pricing options that we did not understand. Specifically, Windows Core provides three pricing plans: 8.33/mo.|Prepaid 12 Months; 9.95/mo.|12 Months; and 9.95/mo.|1 Month (screenshot above right). We have no idea how the "9.95/mo.|12 Months" plan differs from the "8.33/mo.|Prepaid 12 Months" plan. We called NetHosting Technical Support for an answer. We were informed that they did not understand it either, and it was likely a mistake as the company is in the process of updating the website. We hope so.
Not to be outdone, the Windows Standard plan provides three pricing options: 12.50/mo.|Prepaid 12 Months; 13.95/mo.|12 Months; and 14.95/mo.|1 Month. Different plan. Same problem.
Further, despite the fact that the domain name to be associated with the account must be entered during the checkout process, domains not purchased through NetHosting must be manually added to the account in the admin area using an 'A' Record.
TESTING
All web hosting services reviewed by NCM Online are purchased and subjected to our 10-day test for uptime and speed. Utilizing third-party testing service, Dotcom Monitor, identical NCM Test Sites undergo approximately 2000 separate checks performed by 13 worldwide test locations.
Page-load speed and uptime testing for our simple 1-page test site began on 2/22/15 and concluded on 3/4/15. We are pleased to report that NetHosting proved to be reliable, recording a 100% uptime rating throughout the 10-day testing period — which included 1046 separate server reliability checks (see Uptime Test Results Chart above right).
NetHosting web hosting also provided better-than-average page-load speeds, averaging 1.5610 seconds to load our test page from 13 worldwide locations over the course of 10 days and 1053 separate checks. Of the 1053 speed checks, 1052 were successful, while one failed (see Speed Test Results Chart above right). On 2/28/15 at 4:07:25 PM the Hong Kong test location recorded a single 12007 DNS error (the host name could not be resolved).
As expected, U.S. page-load speed proved to be better than the worldwide results. NetHosting averaged a decidedly-fast 1.0613 seconds to load our test page from 7 U.S. locations over the course of 10 days and 571 separate tests.
Pros
Unlimited disk space
Unlimited bandwidth
Unlimited domains hosted
Unlimited subdomains
Unlimited FTP accounts
Unlimited e-mail accounts
Intuitive cPanel control panel
Installatron applications installer with more than 125 included apps
100% uptime test result
Better-than-average page-load speeds
Free website migration
$1.00 per month dedicated IP address option
$24.95 per year private SSL certificate option
PayPal payment option
24×7 phone, chat, and e-mail support
100% uptime guarantee
30-day money-back guarantee
A+ BBB rating
Cons
NetHosting.com website is in serious need of overhaul. It has too many issues to list here
The number of pricing options for cheapest plan, Cloud Virtual Hosting, depends on which link you use to begin the checkout process
Mandatory "interview style" phone verification of all new hosting accounts
Domains not purchased through NetHosting must be manually added to the account via 'A' Record
Conclusion
Despite its first-rate features and technical merits, usability issues prevent our unqualified endorsement at this time. NetHosting has earned 4 stars and is recommended with reservations.
Pricing and Features
Cheap website hosting company price comparisons based on 1-year term list price before coupon/promo codes or limited time/introductory offer discounts. These are the renewal rates for the second year of hosting. To ensure that you receive the most affordable NetHosting Web Hosting pricing possible, please visit our Web Hosting Coupon Codes page for current discounts and special offers before making any purchases.
Plan
CloudVirtual
WindowsCore
WindowsStandard
Disk Space
Unlimited
5GB
10GB
Transfer
Unlimited
100GB/Month
200GB/Month
Backup Management
Control Panel
cPanel
X
X
FTP Accounts
Unlimited
Unlimited
Unlimited
Site Statistics
Web File Manager
Databases
MySQL Databases
10
N/A
N/A
MS SQL Database
N/A
5
5
phpMyAdmin
Development
CGI-BIN
Custom Cronjobs
Custom Mime Types
Custom Error Pages
Perl 5
PHP 5
Software Updates
Domain Management
Domains
Unlimited
1
1
Sub-domains
Unlimited
Unlimited
Unlimited
Domain Pointers
Unlimited
Unlimited
Unlimited
DNS Manager
Email Features
SPAM Control
Email Accounts
Unlimited
Unlimited
Unlimited
Email Autoresponder
Unlimited
Unlimited
Unlimited
Email Forwarding (Aliases)
Unlimited
Unlimited
Unlimited
POP3 Support
IMAP Support
Vacation Messages
Webmail Interface
Guarantees
100% Satisfaction Guarantee
100% Uptime Guarantee
Dedicated Expert Support
100% Cisco Network
Security Features
SSL Private Certificate
SSL Shared Certificate
Web Tools
WordPress
X
X
MediaWiki
X
X
Gallery
X
X
Coppermine Gallery
X
X
osCommerce
X
X
phpShop
X
X
CubeCart
X
X
phpBB
X
X
Windows Hosting
IIS 7.5
N/A
.NET 4.0
N/A
.NET 2.0/3.5
N/A
ASP
N/A
Silverlight
N/A
Price per Month*

$5.95

$9.95

$12.50
Company Information
NetHosting is dedicated to providing high quality and dependable web hosting products accompanied by outstanding customer support. The company values the time-tested qualities of patience, loyalty, honesty, and diligent work. It believes that these qualities set it apart from the competition.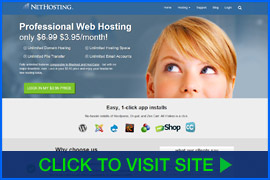 NetHosting offers an assortment of web hosting products that can meet the needs of individuals and start-up to established businesses. The company provides a variety of dedicated hosting plans, cloud hosting, and shared hosting. Customers can buy a web hosting package customized to their hardware requirements and they don't have to worry about maintaining or updating the equipment. The NetHosting Support Team will do it for them. Hosting packages include one-click installation of applications such as WordPress, ZenCart and Drupal. The firm also offers website design and SEO services.
NetHosting believes that cost is not the first or sole measure of value. The company can be judged by its commitment to customers in supplying top-of-the-line products, inventive solutions tailored to each issue or question, and web hosting packages at prices appropriate for any budget.
Dependable hosting is key for companies that have websites with high daily volumes of traffic. NetHosting has a guarantee of 100% uptime. Customers also receive a 100% money-back guarantee allowing them to obtain a full refund if they are not content with the company' services during the first 30 days.
The company's leadership thinks that quality website hosting is attained through four central factors: educated assistance, client-driven products, receptive service, and meaningful client interaction. In today's world, having a web presence is integral to any business, and Nethosting believes that its services are 100% dependable. The firm uses redundant systems so that it can guarantee up-time to each customer regardless of the type of hosting package. Maintaining client Internet presence is the firm's first priority.
Quality customer assistance does not end, but rather begins with product delivery. NetHosting supports customers from the first consultation through the span of the relationship, giving them the conscientious assistance they require to excel. The company's Support Team is available to respond to questions in real-time through the use of online chat and can personally service hardware through the Remote Hands program. Phone support is also available to provide clients with one-on-one guidance when they require it.
The firm's skilled expert team doesn't take shortcuts, but instead gives each problem careful consideration. Employees are the company's greatest resource and they labor together in an upbeat, productive environment in order to efficiently provide the superior assistance that customers have come to depend on. NetHosting's clients do not have to question where they are on the firm's list of priorities. The company knows that client satisfaction has kept it successful during the last fifteen years, and it looks ahead to a future based on the core ideas of quality, dependability, value, and good service.
NetHosting 1155 S 800 E Orem, UT 84097 888-504-4678 Fax 801-223-9937 NetHosting Website NetHosting on Twitter NetHosting on Facebook NetHosting on Google+ NetHosting on LinkedIn
Return to Website Hosting Reviews >
Why You Can Trust Our Web Hosting Reviews >
PLEASE NOTE: While we attempt to provide timely and accurate information, any and all pricing, features, discounts, coupon codes, promo codes, etc. included on this page are beyond the control of ncmonline.com and are subject to change without prior notice.
---