A2 Hosting Reviews
EVALUATION, TEST RESULTS, AND COUPON CODES
A2 Hosting Reviews Summary

Well, what can we say here – you can go ahead and read full A2 hosting review below, or you can save a bit of valuable time and just try it yourself. A2 performed consistently great in our tests and should suit most website hosting needs.

A2 Hosting Reviews Ranking:
Cheapest Hosting Plan: (1-year term renewal)*
$7.99

3.92


– take

51% OFF


with NCMONLINE code!
Current Exclusive! Coupon Code (

51% Discount

):
NCMONLINE
Company Founded:
2001
Domains Hosted:
Unpublished
24×7 Phone Support:
Yes
Money-Back Guarantee:
30 days
BBB Rating:
A+
Website:
https://www.a2hosting.com/

*Price above based on 1-year term before application of coupon code/introductory discount. While you may pay less for the first year of hosting, unless otherwise indicated, the pricing displayed on this page is the 1-year term renewal rate. Star ratings based on a 0.5 minimum to 5 star maximum scale. Why you can trust this review. >
The Bottom Line
HIGHLY RECOMMENDED
There is a lot to like about A2 Hosting. The 3-step sign-up process is quick and easy. The "welcome" e-mail arrives within seconds of signing up, and includes everything you need to begin using your hosting plan immediately.
Shared hosting plans provide unlimited bandwidth, unlimited disk space, unlimited e-mail accounts, and unlimited domains, as well as the intuitive cPanel control panel, and the newbie-friendly Softaculous Apps Installer.
Further, our 10 day test results demonstrated that their lowest priced shared plan provided 100% uptime, as well as some of the fastest server speeds we have measured to date.
A2 Hosting has earned the NCM Online designation of HIGHLY RECOMMENDED.
2016 Ranking

Price:
Ease-of-Use:
Disk Space:
Bandwidth:
Speed:
Uptime:
Support:
BBB Rating:
Guarantee:
Satisfaction:
TOTAL:
Review
HOSTING PLANS
Known for their dedication to high-speed website hosting, A2 Hosting offers two affordable shared hosting plans: Prime and Prime+SSD. Both plans include unlimited RAID-10 storage, unlimited transfer (bandwidth), unlimited e-mail accounts, unlimited domains (the ability to host multiple sites on the same account), and an unlimited number of databases. Both shared plans utilize the speed-enhancing CloudFlare content delivery network, the popular cPanel 11 control panel as well as the easy-to-use Softaculous apps installer. Support services are provided around the clock via phone, chat, or e-mail. Both plans are backed by a 30-day money-back guarantee.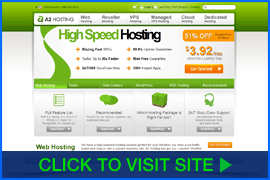 The main difference between the two shared plans is that Prime+SSD utilizes solid state drives, which significantly increase the speed at which the web server is able to deliver your website's content. While we were certainly tempted to opt for Prime+SSD plan so that we could subject it to speed testing, we selected the lowest cost plan as is NCM Online's practice for review and testing purposes. Little did we know that the cheaper Prime plan would provide some of the fastest server speeds tested to date, even without the benefit of the SSD option!
PURCHASE PROCESS
Note: Be certain to use our exclusive the 51% off coupon code NCMONLINE before making your purchase.
We have nothing but good things to say about A2 Hosting's purchase and checkout process. It is quick — only three steps. It is straightforward — they don't try to confuse you into transferring your domain away from your current registrar. They don't automatically place additional-cost options into your shopping cart. If you want to purchase an option, you must select it. Further, they don't try to mislead you with discounted pricing that renews at a significantly higher rate — a practice that is prevalent in the web hosting industry. There is no need to search their site for the fine print renewal cost. The price you see at checkout is the price you pay — today as well as when the plan renews. All you need do is select the plan renewal term. Prime plan pricing ranges from $5.99 per month for a 3-year term to $10.99 per month for a 1-month term.
SETUP
Less than two minutes after entering our billing information and clicking the "Complete Order" button, we received the "welcome" e-mail. It included all of the information required to begin using our hosting account immediately. While this may seem rather basic, our experience is that all too many hosting companies fail to see the value in it and often provide little more than a link to their website. The A2 e-mail included plan, account, site administration, FTP, e-mail, and DNS (nameserver) information and links. This allowed us to upload our simple 1-page test site (click for sample test site) within minutes.
All new accounts comes with a2 hosting cpanel version 11 (control panel – screenshot right). It includes a wealth of information about your website and provides you with a fast and easy way to do anything from adding an e-mail address to installing WordPress with the Softaculous Apps Installer. While it provides newbies with a way to administer their site and learn the ins and outs of being a webmaster quickly, it also includes numerous advanced features that experienced webmasters can use to effect changes like modifying A-records, creating private nameservers, and adding subdomains.
TESTING
Speed and uptime testing for our A2 hosted NCM Test Site began on 4/18/14 and concluded on 4/27/14. (See speed and uptime test charts below right). The 10-day speed test results for our simple 1-page test site were nothing less than impressive. We can only imagine what the results might have been had we opted for the faster Prime+SSD plan.
Of the 13 worldwide testing locations utilized, site speed was fasted when accessed from Minnesota. The location recorded an ultra-fast page load time of only 0.7245 seconds using a standard Internet Explorer browser. Site speed was slowest when accessed from Hong Kong, recording a most respectable average of 1.2598 seconds to load our test site. It is worth noting that a number of hosting services previously tested (see the NCM Online reviews page) took longer than 1.2598 seconds to load our test site from nearby U.S. locations.
All web hosting services reviewed by NCM Online are purchased and subjected to our 10-day test for uptime and speed. One of the fastest hosts tested to date, A2 Hosting recorded an average speed of 1.1286 seconds to load our test site from 13 locations worldwide, and an average speed of only 0.7605 seconds from 7 U.S. locations. Further, tested for uptime every 15 minutes over 10 days, A2 Hosting produced a perfect 100% reliability score.
Pros
Unlimited RAID-10 disk space
Unlimited bandwidth
Unlimited domains
Unlimited e-mail accounts
Unlimited databases
CloudFlare content delivery network
A2 hosting cpanel 11 control panel
Softaculous apps installer
Cheapest plan includes dedicated IP address and SSL certificate options
Checkout and set up are fast and easy
PayPal payment option
24×7 phone, chat and e-mail support
Fast servers
100% uptime
30-day money-back guarantee
Best-practices business and website
A+ BBB rating
Exclusive 51% discount coupon code: NCMONLINE
2016 update: With the new pricing of $3.92 per month for a 1-year term, A2 Hosting is hands down one of the cheapest and solid shared hosting plans on the market.
Cons
After company restructred its pricing model, there is no more significant cons that we can list here at the moment.
Conclusion
We liked everything about our experience with A2 Hosting, and actually enjoyed the testing and reviewing process. A2 compiled the highest NCM Online star-ranking recorded to date (4.9 rounded to 5). While you may find slightly cheaper web host, you will have a very difficult time locating a better otption in terms of ease of use, speed and stablilty.
A2 Hosting has earned 4.9 stars and NCM Online's highest recommendation. We have yet to find a better low-cost cost!
Pricing and Features
Cheap website hosting company price comparisons based on 1-year term list price before coupon/promo codes or limited time/introductory offer discounts. These are the renewal rates for the second year of hosting. To ensure that you receive the most affordable pricing possible, please visit our Web Hosting Coupon Codes page for current discounts and special offers before making any purchases.
Plan
Prime
Prime+SSD
Average Page Load Speed
1.1 Sec
0.3 Sec
MySQL Transactions per Second
6K
19.9K
RAID-10 Storage
UNLIMITED
UNLIMITED
Transfer
UNLIMITED
UNLIMITED
Domains
UNLIMITED
UNLIMITED
Email Addresses
UNLIMITED
UNLIMITED
Databases
UNLIMITED
UNLIMITED
High Speed Hosting Features
SwiftServer Platform
CloudFlare Content Delivery Network (Avg. 200% Faster Page Load)
FREE
FREE
Railgun Optimizer (Up To 143% Faster HTML Load Times)
$2.00/mo
FREE
US & Europe Server Location Options
10 Gb/s Redundant Network
8 Core Server Minimum
24 GB RAM Server Minimum
Server Overloading
X
X
Exclusive Web Hosting Features
Server Rewind Backups
FREE
FREE
Perpetual Security w/ Free HackScan
Ultra-Reliable Hosting
Easy 1-Click or No-Click WordPress Setup
Hassle-Free 30-Day Money Back Guarantee
FutureServe Green Hosting
24/7/365 US-Based Guru Crew Support
Free Site Transfer
Price per Month*
$7.99

3.92

$10.99
Company Information
Founded in 2001 as Iniquinet, the company changed its name in 2003 as a tribute to its original location, Ann Arbor, Michigan. Over the years, A2 Hosting has become known for its extremely fast solid state drive (SSD) servers and low-cost shared hosting plans.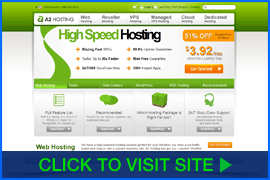 The company is focused on delivering the type of website hosting they would want for their own websites. This high standard includes ultra-reliable performance from their exclusive SwiftServer platform, all-inclusive unlimited hosting without hidden fees, free server rewind backups to protect your data, and 24/7/365 customer support services from their friendly and expert staff. This commitment to unmatched customer service is borne out by their A+ Rating from the Better Business Bureau.
As a product of 10+ years of industry experience, their hosting plans provide ultra-reliable, high-performance solutions to help their customers succeed. As part of their commitment to reliability, they provide detailed server uptime reports that back their 99.9% uptime guarantee. Confident that customers will be impressed with both the quality and ease-of-use of the services provided. They also feature a risk-free, no-hassle, 30-day money-back guarantee.
Featuring Data Centers in Southfield, Michigan and Reykjavik, Iceland, A2 provides fully-redundant, dual-fiber-entrance network connectivity via Cogent Communications, Global Crossing, Savvis, and Level 3. These fully-secured Data Centers incorporate redundant power supplies and closely controlled and monitored server environments.
Providing Shared, Reseller, VPS, Managed VPS, Cloud, and Dedicated Hosting, our highest-ranked host offers plans and features to accommodate any organization's web hosting needs — even when those needs change over time. Their customer-centric approach to providing state-of-the-art technology services has allowed the company to differentiate itself from the competition and solidify their reputation as a leader in the industry.
While thge firm is a technology-focused services company, they are also aware of the impact that their business has on the environment. As part of their commitment to the fight against climate change, they have partnered with Carbonfund.org since 2007 to measurably reduce their carbon footprint. Today, the company continues to implement green policies throughout their organization, and remains fully committed to preserving the planet for future generations.
A2 Hosting, Inc.
P.O. Box 2998
Ann Arbor, MI 48106
888-546-8946
734-222-4678
Fax 734-527-6565
A2 Hosting Website
A2 Hosting on Twitter
A2 Hosting on Facebook
A2 Hosting on Google+
How to Install WordPress
This video tutorial will show you exactly how to install WordPress using a2 hosting cpanel and the Softaculous 1-click script installer.
---
---
A2 Hosting Coupon Codes
---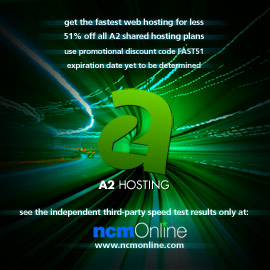 SHARED WEB HOSTING
This coupon code will provide a 51% discount on A2's Lite, Swift, and Turbo shared hosting plans.
Use our exclusive discount code NCMONLINE in your shopping cart when placing your order.
---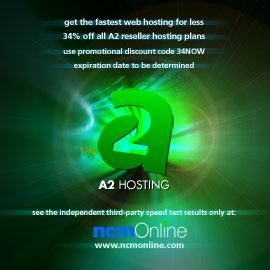 RESELLER HOSTING
This promo code will provide a 34% discount on A2's Produce, Progress or Prosper reseller hosting plans.
Use promotional discount code 34NOW in your shopping cart when placing your order.
Expiration date is TBD.
---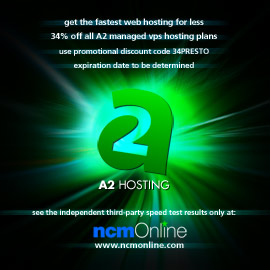 MANAGED VPS HOSTING
This coupon code will provide a 34% discount on A2's Power+, Prestige+, or Pinnacle+ managed VPS hosting plans.
Use promotional discount code 34PRESTO in your shopping cart when placing your order.
Expiration date is TBD.
---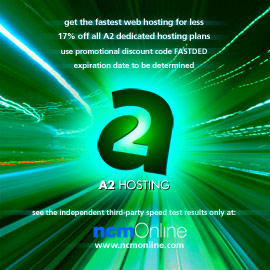 DEDICATED HOSTING
This promo code will provide a 17% discount on A2's Flex or Managed Flex dedicated server hosting plans.
Use promotional discount code FASTDED in your shopping cart when placing your order.
Expiration date is TBD.
---
Promo Code Video
You can read even more useful info here >
Return to top 10 web hosting reviews >
Why You Can Trust Our Host Evaluations >
PLEASE NOTE: While we attempt to provide timely and accurate information, any and all pricing, features, discounts, coupon codes, promo codes, etc. included on this page are beyond the control of ncmonline.com and are subject to change without prior notice.
---