WP Engine Promo Code Flash Sale 10/07/15
This page last revised October 7, 2015.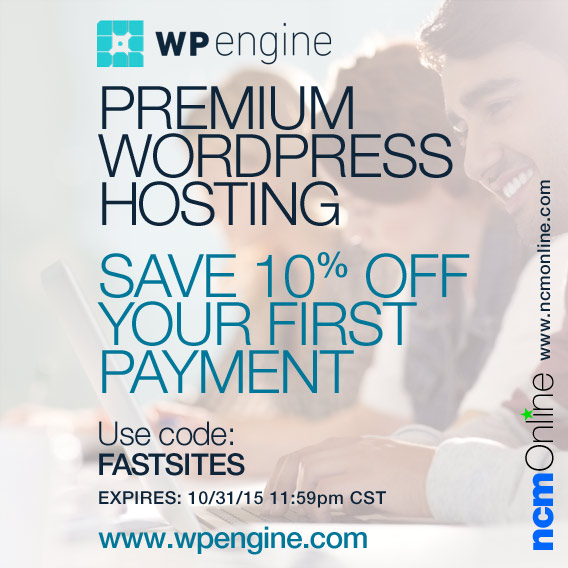 Current Coupon Code

10% off first payment for WP Engine Premium WordPress Hosting:
FASTSITES
Offer Expires:
10/31/15 11:59 PM CST
Offer Details
PREMIUM WORDPRESS HOSTING
Save 10% off the first payment on monthly and annual shared plans.
Use promo code FASTSITES in your cart when you order.
This month WP Engine is offering customers 10% off their first month's payment using the code FASTSITES. Customers that use this coupon code to buy annual plans save big money:
Personal Plans: Save $87.00!
Professional Plans: Save $297.00!!
Business Plans: Save $747.00!!!
Stunning speed, powerful security, and best-in-class customer service. Improve conversion rates with a faster site on WP Engine. WordPress isn't just their platform, it's their passion.
Expires 11:59 PM CST October 31, 2015.
Validity: Offer valid only for new customers; does not apply to upgrades or existing customers. Cannot be combined with other offers. Valid only on Personal, Professional, or Business plans. Cannot be combined with other offers.
Return to Web Hosting Coupon Codes >
Certain elements of this page: Copyright © 2015 WPEngine Inc. All Rights Reserved.
---