WebHostingBuzz Promo Code Flash Sale 10/07/15
This page last revised October 7, 2015.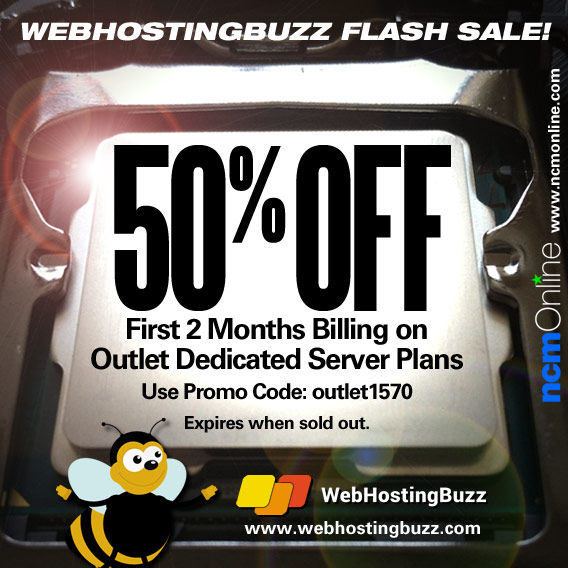 Current Coupon Code

50% Off First 2 Months Outlet Dedicated Server Plans:
outlet1570
Offer Expires:
When Sold Out
Offer Details
50% off first 2 months on new WebHostingBuzz Outlet Dedicated Server hosting plans.
Use promo code outlet1570 in your cart when you order.
Offer expires when sold out.
With pricing starting from only $99.00 per month, an Outlet Dedicated Server is a perfect choice for those who would benefit from the performance of a dedicated server, but can't justify the full expense yet. Use special coupon code "outlet1570" during checkout and you'll receive 50% off your bill during 2 months. Many of the servers initially listed have already been sold, so be sure to grab one — before they sell out completely.
WebHostingBuzz outlet servers are located in the US, primarily at their Dallas, TX facility. They're offering all the usual add-ons with these, so any outlet server can be set up with cPanel/WHM. The offer is valid strictly while stocks last, so be sure to grab a dedicated server deal while you can.
Promotional discounts valid on new outlet dedicated server hosting plan orders only and do not apply to established dedicated hosting accounts, dedicated hosting renewals, domain name purchases, domain name renewals, or new or renewing 'add-on' services. Discounted services renew at regular rates. This offer may be withdrawn by WebHostingBuzz at any time without prior notice.
Return to Web Hosting Coupon Codes >
NCM Online WebHostingBuzz Review >
Certain elements of this page: © WebHostingBuzz USA LLC 2002–2015. WebHostingBuzz is a Registered Trademark. All Rights Reserved.
---