DreamHost Promo Code
This page last revised October 12, 2015.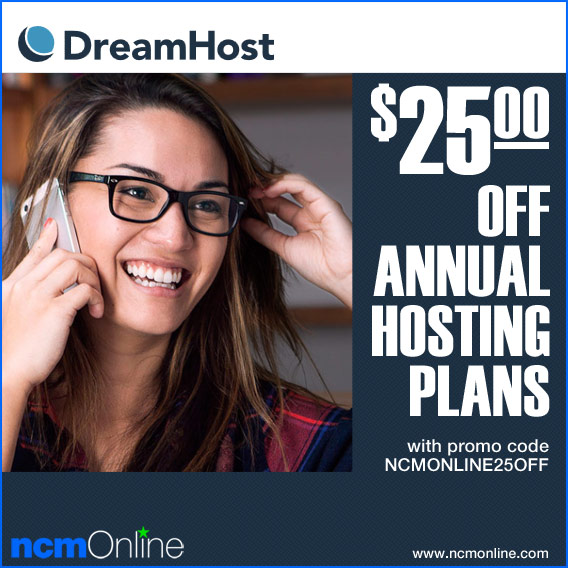 Current Coupon Code

$25.00 Off Any Annual Hosting Plan:
NCMONLINE25OFF
Offer Expires:
No Expiration
Offer Details
Shop now and receive $25.00 off any DreamHost annual web hosting plan.
Use promo code NCMONLINE25OFF in your cart when you order.
No expiration.
Did you know?
DreamHost was determined to be the fastest worldwide web hosting service according to independent third-party testing. Use the preceding link to see their speed testing results compared to 49 other popular shared hosting services.
NEW SOLID STATE DRIVES
DreamHost has added solid state drives (SSDs) to their shared hosting plans to help your sites succeed. Your site's pages will now load up to 200% faster, making it one of the quickest and most affordable ways to get your website online. Their shared hosting plan supports any kind of site including blogs, portfolios, business sites, online stores and even complex database-driven sites. They've been at it since 1997 and currently host over one million websites — so see what their many years of experience and devoted team can do for you and your website.
UNLIMITED BANDWIDTH, DISK SPACE AND E-MAIL
DreamHost won't cramp your style by limiting the size and growth of your web presence — even on their discounted shared hosting plans. Unlimited disk space, bandwidth, and e-mail accounts with auto-responders provide the flexibility required to increase the popularity of your site without the headaches and overage charges too often associated with low-cost shared hosting accounts.
100% UPTIME GUARANTEE
DreamHost backs it web hosting plans with more than just words. Their ironclad 100% uptime guarantee provides the assurance you require to know that your getting the best shared hosting for less.
AROUND THE CLOCK SUPPORT
DreamHost understands that website problems can happen at any time of the day — including non-business hours. Their 24/7/365 expert in-house support team is always there to help via e-mail, chat, and Twitter.
97-DAY MONEY BACK GUARANTEE
DreamHost is so certain that you'll love their industry-leading shared hosting, they can afford to provide an unparalleled 97-day money-back guarantee.
Promo codes/referrers are for new customers only — if you use one you may not host on your account any domain ever previously hosted with DreamHost.
By using a promotional ("promo") code you waive the option to indicate who referred you to DreamHost.
You may not change/submit a promo code or referrer after you've finished signing up.
---
Video
---
Return to Web Hosting Coupon Codes >
Certain elements of this page: ©2015 DreamHost. All Rights Reserved.
---