A2 Hosting Black Friday/Cyber Monday Coupon Code Flash Sale 11/25/15
This page last revised November 25, 2015.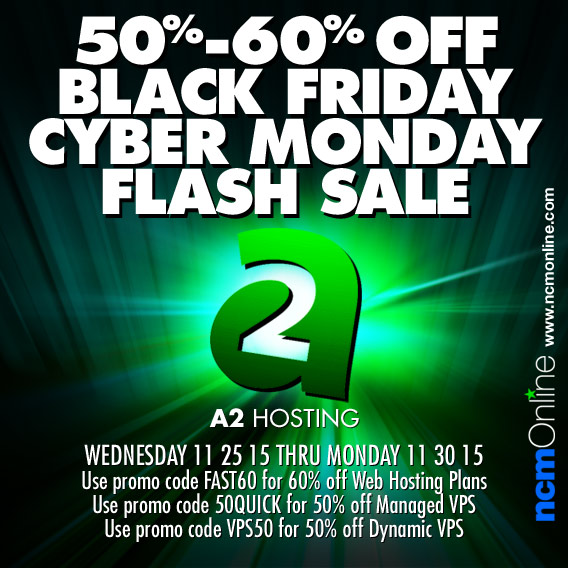 Summary

Current Coupon Code (60% Off Shared Web Hosting Plans):
FAST60
Current Coupon Code (50% Off Dynamic VPS Hosting Plans):
VPS50
Current Coupon Code (50% Off Managed VPS Hosting Plans):
50QUICK
Offers Expire:
12/1/15
BLACK FRIDAY/CYBER MONDAY FLASH SALES
A2's Most Valuable Coupon Codes of 2015
YOU REALLY CAN GET THE BEST FOR LESS
Rated as the Best Web Host of 2015, and the Fastest U.S. Web Host by NCM Online, A2 Hosting is offering an incredible 60% off shared web hosting plans. But the savings don't end there. You can now save 50% on Dynamic VPS plans and get 50% off Managed VPS plans.
Click for the independent third-party page-load speed test results >>
Click to take advantage of A2's biggest sale of 2015 now >>
WEB HOSTING PLANS
A2 Hosting pioneered the use of solid state drives (SSDs) for shared web hosting plans. The company remains at the forefront of the industry by providing low-cost, high-speed, high-quality hosting backed by expert US-based support. They ranked as the top web hosting company from 50 popular shared hosts tested, rated and reviewed by NCM Online. Don't miss out on this opportunity to try their superior brand of hosting for 60% off their regular pricing. We have never regretted referring a customer to A2, and doubt we ever will.
DYNAMIC VPS PLANS
If you are a system admin or web developer looking for the full-customization options provided by a 'bare metal' installation, A2 Hosting's Dynamic VPS plan warrants your consideration. Available with SSD server, this plan provides full root access, Turbo VPS Boost, and your choice of operating system and server location. The Dynamic VPS plan is currently available at a previously unheard of 50% discount with the coupon code above. This deal expires 12/1/15 so you'll need to act quickly.
MANAGED VPS PLANS
Whether you're new to VPS, or simply prefer the numerous features and benefits of a managed hosting, A2's Managed VPS plan is the way to go. Starting with the solid state drive server, this plan is packed with features like cPanel, choice of RAM, 3 RAID-10 storage options, choice of vCPUs, Turbo VPS Boost, dedicated IPs, and much, much more. Best of all, it includes full HostGuard management, providing worry-free server management from A2's 24/7/365 Guru Crew Support team. For a limited time only, this plan is available at a 50% discount with the coupon code above. This sale will not be extended past November 30, 2015, so act now to get A2's best VPS deal of 2015.
To take advantage of these special Black Friday/Cyber Monday discounts, you must use coupon codes above in your shopping cart when placing your order.
A2 Hosting Black Friday/Cyber Monday offers expire on 12/1/15.
Note that discounted hosting plans renew at the regular rate. Select a longer billing cycle to maximize your savings.
Promotional discounts valid on new orders only and cannot be applied towards renewal invoices. All web hosting plans are set to automatically renew on their renewal date after the initial billing cycle to prevent any disruption in the service. Plan renewal dates are included on all invoices, and within the services pages of the client portal. Renewal invoices are sent via e-mail fourteen days prior to the renewal date, unless an alternate arrangement has been established or a prior service cancellation request has been submitted from the client portal.
---
Video
---
Return to Web Hosting Coupon Codes >
NCM Online A2 Hosting Review >
Certain elements of this page: ©2015 A2 Hosting. All Rights Reserved.
---