100% Uptime Rating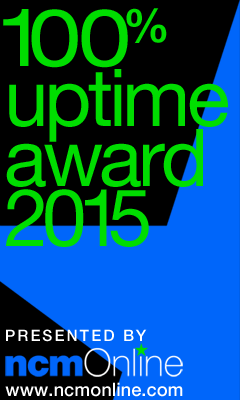 THE AWARDS
The 100% Uptime Rating Awards are presented to the web hosting companies that recorded perfect 100% uptime ratings during our 10-day test period.
THE TESTING PROCESS
All web hosting services reviewed by NCM Online are tested for uptime using identical test sites. Testing is conducted by Dotcom Monitor, an independent, third-party testing service.
Uptime is checked and recorded every 15 minutes for 10 days from 13 worldwide locations: Amsterdam, California, Colorado, Florida, Frankfurt, Hong Kong, London, Minnesota, Montreal, New York, Paris, Texas, and Virginia.
The test results are then compiled and used to produce the uptime test results charts and ratings that accompany each NCM Online review published.
Of the 50 companies tested and reviewed, 36 were able to achieve a 100% reliability rating for 10 consecutive days.
THE WINNERS
NCM Online is proud to present its 100% Uptime Rating Awards for 2015 to the following Web Hosting Companies (presented in alphabetical order):
1&1
A Small Orange
A2 Hosting
Aplus.net
Certified Hosting
Dotster
DreamHost
Eleven2
GlowHost
GreenGeeks
HostMonster
HostNine
Hostoople
HostPapa
HostRocket
Hub
iPage
JustHost
Lunarpages
Midphase
Namecheap
NetFirms
NetHosting
Network Solutions
Omnis
Register.com
Servage One
SiteGround
StableHost
StartLogic
Superb Internet
Web.com
WebHostingBuzz
WebHostingPad
WestHost
Yahoo
RELATED